Shorts have gained popularity among women as an indispensable thing for the summer wardrobe.
Women wear comfortable shorts from wool and knitwear, denim and other materials. There are a number of particularly fashionable styles of female shorts that are relevant this season.
Let's get informed about fashion trends of women's shorts 2020.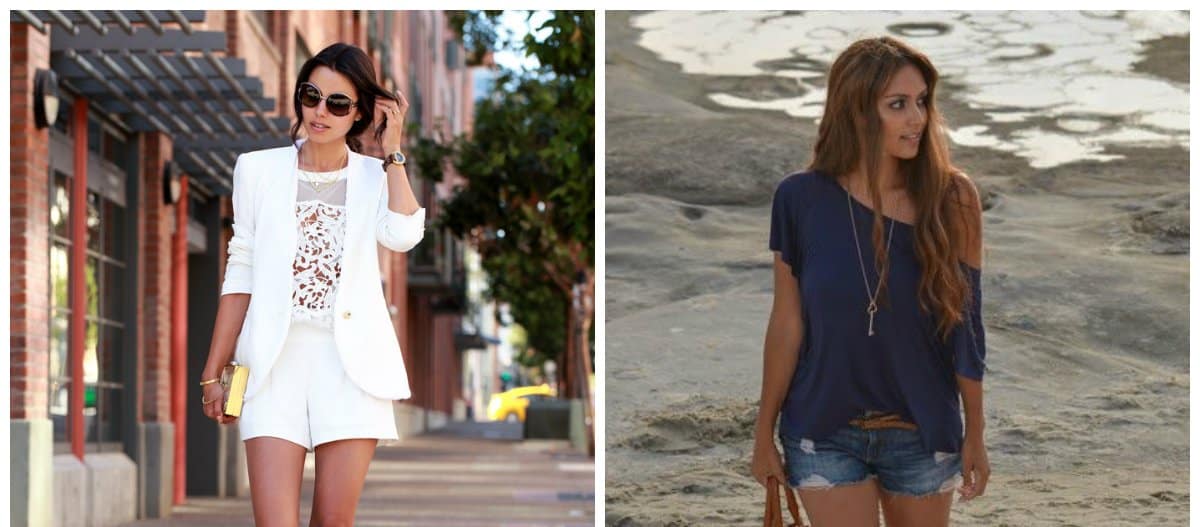 Women's shorts Video advices
Women's shorts 2020: trendy styles
Safari is a stylish trend of women's shorts 2020, related to the 70's retro. It regained its second breath and returned to the women's wardrobe this season.
Elongated styles are also in trend. Long, wide and free Bermuda shorts are considered a business style.
This style is named after Bermuda, where it first appeared as part of a summer business suit. Bermuda is well established in women's fashion, as they perfectly conceal the completeness and shortcomings of the figure.
Ladies summer shorts: other styles
You can replace jeans by denim shorts. Simply cut off the jeans, then without sewing, leave a small fringe along the edge.
Lovers of wearing ultra-modern clothes should pay attention to the hit of the season: "torn" and "ragged" shorts. As a rule, they are ultrashort, whitened or colored, with a gradient color from light to dark. This style is one of fashion trends of ladies summer shorts.
"Boyfriends" female shorts are also popular this season. Modern light blue models, as well as products of cowberry, violet and ink shades, look stylish. Fashion designers don't refuse from such traditional colors as black, dark blue and gray for making jeans shorts.
Cargo is a type of fashion shorts with a lot of patch pockets. The original style is considered unofficial and refers to street fashion. It's typical to have at least four sewn convenient pockets with valves on the buttons for cargo shorts. It's one of the stylish trends of women's shorts 2020.
The soft fitting style with a high fit and high waist can be attributed to the fashionable provocations of this season. Shorts will emphasize the figure and demonstrate its dignity.
The proportions will be significantly improved thanks to the high waist. The silhouette will visually elongate, the legs will look slimmer.
Female shorts: trendy shades
Coral
Bright coral and cyclamen are the hits of this season. This shade is suitable for ladies summer shorts.
The attractiveness of such colorful shades is evident in tight short styles for spring and summer. In shorts of bright colors should be a minimum of details: only a few decorative rivets or lines, an effective strap, and zippers on the pockets.
Yellow
Fashionable golden and all shades of yellow color are used this season for sewing various female shorts of any length and style. Yellow shorts are universal.
They look perfect with T-shirts, tops, and shirts. Elongated and strict styles of yellow shorts look good with a fashionable bright jacket.
In a cage and a strip
Materials in a monophonic and light contrast stripe and cage look perfect. They give the figure slenderness due to visually extending horizontal lines.