Wedding is event for which people prepare thoroughly. Despite popularity of casual weddings, which men wear even shorts with T-shirt, suits remain immortal classic. Designers have worked on novelties of 2019, presenting trendy suits of different colors, styles, models that look great at wedding fashion shows. They tried to accommodate needs of lovers of discreet style and those who want to look bright. We'll talk about wedding suits 2019 trends
Wedding suits 2019: fashionable styles and models
Choice of wedding suit for groom is not less responsible task than choice of bride's dress. With all variety of holiday clothes for men, this is also difficult choice. But if you take into account all fashion trends and understand rules for choosing wedding suits 2019, then groom's image will be irresistible.
What is leading today in lists of fashion models? What is totally unacceptable for wedding? We'll analyze all possible options in order.
Let's start with fact that leading positions are occupied by suits, and not tuxedos or tail-coats.
Option of wedding suit of groom, in which there is no jacket, is not so rare. This is especially true in hot summer. This solution is popular for weddings organized in unconventional style.
Jacket can be successfully replaced with waistcoat or spectacular suspenders. If you choose marvelous bright color, they will become noticeable decoration.
This version of suit allows non-standard wearing of shirt. Feel free to roll up your sleeves, and heat will surely be easy for you. Please note that absence of jacket requires more careful approach to choice of shirt. Classic white, in this case, will look boring. So fantasize!
Boho style wedding suits
Boho style is otherwise called Bohemian chic. This is something of glossy bohemian and free hippie. It firmly became fashionable, including wedding fashion at beginning of the 21st century.
This style includes vintage and ethnic elements, allows bright colors and eccentric images.
Main thing that distinguishes suit of groom in style of boho is choice of natural fabrics. Jacket isn't mandatory element. Much preferable vest. If you still decide to wear jacket, it should be different from pants with texture and color scheme.
Trendy colors of wedding suits in 2019
Although wedding suit is rather traditional dress, it doesn't have to look strictly and primly. Modern models allow groom to choose suit for every taste. Bright and juicy shades are also welcome, and with proper cut, they will look incredibly elegant and festive.
The most popular hues of wedding suits 2019: white, lilac and deep blue.
These colors are trendy because they will be perfectly combined with boutonniere and bride's bouquet in delicate pastel colors.
But fashion designers offer many other worthy colors. In the second place in popularity are both gray and burgundy. Black and brown are classics that never go out of style.
Blue and dark blue are especially popular today. Suit can consist of several shades of blue or gray. White shirt will emphasize depth of color. Bow or tie can be chosen in more saturated tone.
Chocolate color suit can be advantageously emphasized at expense of accessories or fabrics with interesting texture.
Gray tones, though not popular, but brands such as Tom Ford, Hermes don't forget about them. Cold, metallic colors are choice of conservatives who don't want to give way to newness.
Burgundy, as well as color of Marsala, will look especially impressive if suit is complemented with contrasting inserts. Top and bottom can be diverse.
Trendy palette
Classic black won't go anywhere from wedding suits 2019 trends, but it will give way to bright colors: blue or burgundy. For those who want to look bright, stylists recommend staying on soft Bordeaux or classic wine hue.
Due to texture with glitter and shine, suit will look expensive and elegant. Beauty of shades is revealed in tissues:
Fans of dark and restrained palette should choose wedding suit in gray or brown (shades of chocolate).
Neutral light is also in fashion. Several models in shows of Cerruti are presented in beige color, creating unique look.
Wedding suits 2019: trendy brands
Stylists identify several top trends, having chance to become hit. Fundamental trends in wedding suits are:
Scottish cage print (introduced by Trussardi, Etro and Fendi brands)
Striped (in the best traditions of Giorgio Armani or as in Vivienne Westwood)
From velvet (striking examples from Michael Bastian and Emporio Armani)
With elements of applique and embroidery (presented in Antonio Marras and Gucci shows)
Designer clothes, haute couture clothing also inspired other brands.
Ralph Lauren, Ermenegildo Zegna offer unusual white options for suitors in 2019. From these famous fashion houses, you can choose suit for your wedding in classic and free style.
Valentino offers unusual models with original prints as wedding suits 2019. Tom Ford offers groom conservative style with arrows.
At peak of popularity of wedding fashion is ivory color. Boldman brand offers fiances suit of such shade, framed in black edging, which enhances effect of this color.
Trendy materials for mens wedding suits
Forget about types of fabrics for suits, such as drape, tweed, linen.
They are superseded by new materials, including velvet, giving aristocratic touch to wedding suit. The trend a la 80s according to law of cyclical fashion will return in 2019, making style of men luxurious.
For those who want to create simple, but elegant wedding bow, stylists recommend buying denim suits, they are attractive due to their convenience and versatility. They are popular and will fit in wedding ceremony of any style.
Denim in sober colors with minimum of accessories is suitable for simple wedding, and with bold accents (with bold color or contrast of materials) will be suitable for lush and elegant celebrations.
Leather inserts are also key trend. They will emphasize character of man, making bow brutal, but sophisticated.
Fashionable prints of wedding suits
Men's wedding suits decorated with patterns are in 2019 trends. Among prints leads classic strip and elegant cage. Accents are done on patches. On wedding suits 2019, they are presented in different forms, mostly round or oval.
Imitation of sewn patches looks fresh due to dense materials, for example, suede fabric or leather.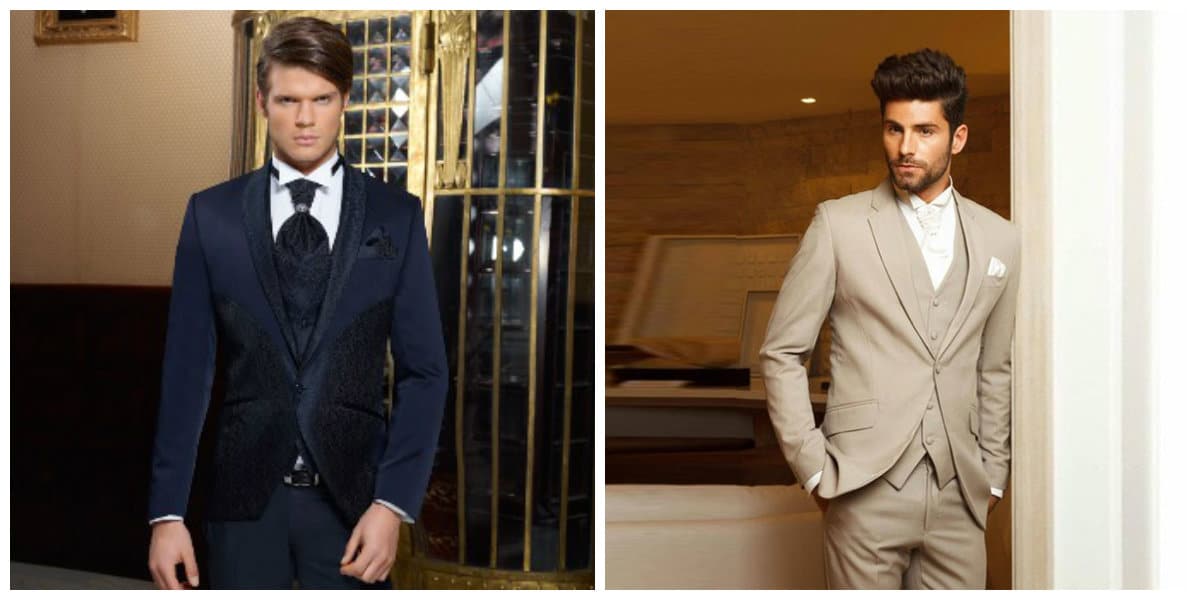 Implementing idea, designers did not forget about main rule: harmonious combination of patch with color of line of pockets.
Trendy styles of wedding suits
In terms of style, stylists didn't present shocking new products for wedding suits 2019. Leading positions remain wedding suits as:
American style suit
Double breasted model
Suits with shortened and tapered leg and fitted jacket
Men who want to create respectable bow for wedding in 2019, should stop on double-breasted model.
Universal model that is suitable for any occasion is always fashionable classic. In 2019, it was slightly modified, it has traditional jacket cut and solid and discreet silhouette.
Metallic threads are also in 2019 trends. Beautiful figure will emphasize fitting style found in collections of Italian brands. Popularity of model is due to elegance, simplicity, and convenience.