Modesty, femininity, naturalness are the three factors that will be decisive for prom dresses 2021 in this season. A properly chosen prom dress will help to maintain great mood, confidence, and charm.

Our article about fashionable prom dresses 2021 will help you with this task.

Prom dresses 2021: Fashion trends
Outfits with minimum of sexiness are in trend: without abundance of seductive cuts above knees and necklines with falling out breasts, and also without a billion ruches, heavy fluffy skirts with rings, sequins, and rhinestones.
Tight pads also fall away from fashion of prom dresses 2021.
Designers recommend emphasizing the dignity of the body in other ways: fitted silhouette, cut exactly on figure, focus on hips, open the back, but without a hint of vulgarity.
In 2021 fashion trends, fabrics are preferred to be weightless, flowing, perfectly distinguishing the natural lines of the body, sometimes slightly transparent, which looks perfect in multi-layered options, because they give lightness, without burdening the look.
According to the latest fashion trends 2021 women should refuse dresses in the style of ballet tutus and dresses with multi-tiered skirts.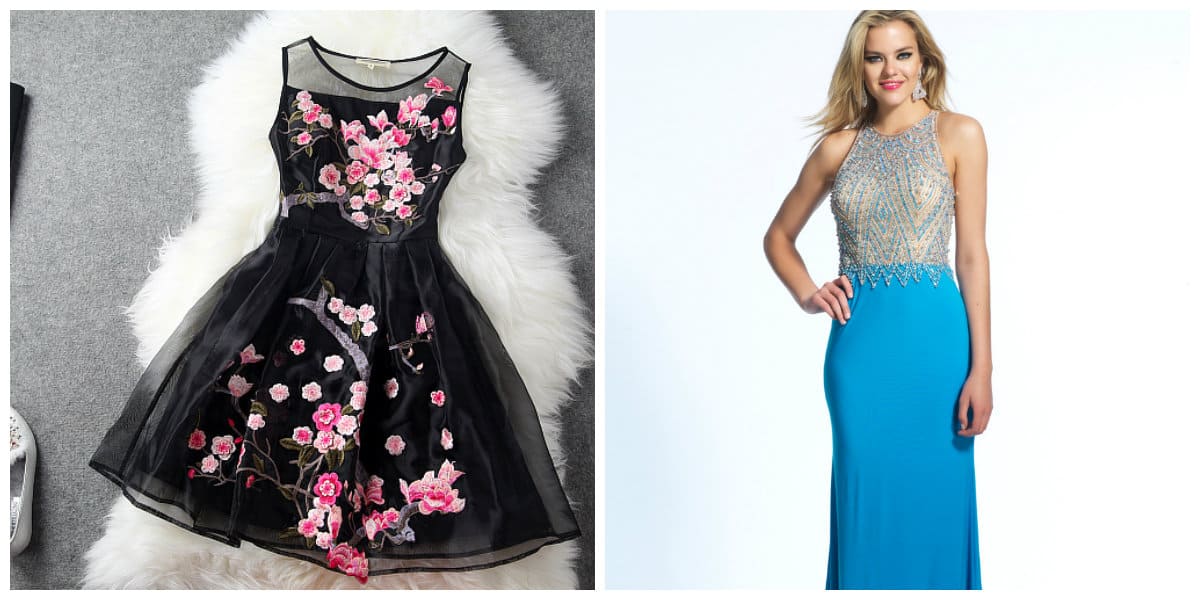 It is desirable to decorate the upper part (bodice) with lace, pearl beads, bead scattering, decorative inserts.
Dresses in the style of little mermaid, Greek style, and straight A-silhouette are still in prom dresses 2021 trends.
It will be necessary to combine them not with massive decorations and flashy decor, but with unobtrusive attributes, like delicate flowers from lightweight materials.
Blue prom dresses 2021: Stylish ideas
Stylish blue is one of the favorites in fashion 2021. Shades of blue are suitable for almost all women and are relevant at any time. It is chosen by both young girls and mature women.
A girl in a blue dress becomes a sea goddess.
Blue color has many shades and in order to harmonize perfectly with your skin color type, you need to take into account some of the nuances during the selection of blue prom dresses 2021.

In case the nature has rewarded you with blue eyes, then you can safely choose blue prom dresses 2021. The beauty of brown eyes can make blue dresses of muted shades more expressive.
Bright colors are great for blondes and brown-haired women. Brunettes should pay attention to deep and dark shades.
Stylish tips for choosing blue prom dresses 2021
Women with slim figures can safely choose fitting blue sheath dresses of short or midi length. In case your figure has flaws in the upper part, pay attention to the models with a free cut, which can be short, if you have beautiful legs.
Dress with high waist or A-silhouette will perfectly hide the extra volume in the abdomen. A-silhouette models are recommended for very thin girls, as they perfectly hide the skinny legs.

Blue prom dresses 2021 with V-neck and little-flared skirt have become one of the popular styles this season. This dress gracefully emphasizes the silhouette and the femininity of any figure.
Blue prom dresses 2021 in mermaid style will also be popular. They wrap around the hips and buttocks beautifully. The top of those dresses, at the same time, can be both more open or closed.
Dresses with cuts on the skirt part combine comfort and attractiveness. Female legs look extremely tempting, appearing from incision while walking.
 Trendy styles for black prom dresses 2021
The main feature and undeniable advantage of black color is its versatility. It is easy to choose accessories for it, because you can combine a black dress with any color.
Black prom dresses 2021 are quite restrained and elegant. Some of the styles can be easily transformed into casual ones, by putting on a jacket and choosing the appropriate accessories.
Evening dresses in black are a real catch for overweight girls. Stylists unanimously argue that black is slim. Isn't that what most girls and women dream about?

Black prom dresses 2021 have many styles and variations, so it is important to try on different models before buying one. Perhaps the style that never attracts a woman will look great in a black option.
Long dresses are unusually stylish and alluring. Mermaid style models perfectly complement rhinestones on bodice, while this dress looks triumphant and elegant, without a hint of pomp.
Long models with slit are at the top of popularity, because due to them it is easy to look elegant and charming at the same time.
Fashion 2021 suggestions for black prom dresses 2021
Long black prom dresses 2021
Long dresses with an open back are suitable for courageous women. This look of a black cat, endearing with its curves, drives men crazy.
Deep cut on the back is decorated with black lace or soft fabric assemblies. Neckline can be quite frank, but quite comfortable.
Short black prom dresses 2021
Short models of fitting cut are separate category of dresses. They are decorated with lace and rhinestones. Black prom dresses 2021 with lush skirts are more youthful and fresh options.
Models of tulle, chiffon, and organza in the latest collections are decorated with embroidery with floral print in gold color.

Prom dresses 2021: The little black dress
The little black dress doesn't lose its popularity, because its universality doesn't require extra confirmation. When choosing this model, it is important to think about its style.
Fitted bodice provides  a silhouette of hourglass, and a semi-adjacent hem demonstrates the slimness of the legs.
Sheath dress is eternal classic, suitable for women of any age. Every practical woman should have such style in her wardrobe. Lightweight jacket, sheath dress, and pumps represent a business style.
Red prom dresses 2021: Voguish trends
Red is the color of passion. It attracts and stirs the imagination. In this dress, it is impossible to go unnoticed.
Even the simplest style of a dress in this juicy color creates a bright and a festive look. For red prom dresses 2021 it is easy to pick accessories and shoes.
Also, the options for evening dresses in this color are so many that women of fashion with any type of appearance can choose the right model for themselves.

Red is for everyone. It is only necessary to determine the most winning shade. Brunettes are especially spectacular in bright red, rich wine tones and in red with a pinkish hue.
Blondes with golden hair look charming in shades of cherry, coral, tomato.  Ashy blondes are in harmony with scarlet, pink-red.
Women with red curls should pay attention to red prom dresses 2021 in carrot, red-orange colors. Also, another option for red-haired ladies is the shade of garnet.
Stunning ideas for red prom dresses 2021
Prom dresses 2021 with fluffy skirts are suitable for any type of figure. Maxi models are appropriate for social events, mini is ideal for parties, and midi dresses are good for corporate events and any other occasions.
The silhouette of the little mermaid is an option for fashionistas with perfect forms. This model is a long dress with a gorgeous tail, adjacent to the waist and hips.
Such red prom dresses 2021 favorably emphasize the figure, creating a graceful silhouette.

Models with high waist are especially recommended for the owners of apple style figure. This flowing style will help to hide the extra centimeters at the waist and the small tummy, creating an elegant and a feminine look.
Red prom dresses 2021 with open backs look sensual and spectacular. Stylists don't recommend short option of such dresses for 2021 fashion trends.
The length of mini in combination with bright colors and frank styles will look too defiant.
A classic, elegant style in red acquires a special chic. Shealth dresses are suitable for ladies of any age and are appropriate for any festive events.
 Modish trends for white prom dresses 2021
Dresses for special occasions can vary in styles, lengths of sleeves, numbers and depths of cutouts and methods of decoration. Depending on the type of a dress, you can highlight the advantages and place the accents correctly. So, what look can you create with beautiful white prom dresses 202?

Latest fashion trends 2021: Romantic white dresses
Romantic look: long white prom dresses 2021, sewn from rich fabrics: silk, satin or chiffon will be appropriate. Luxurious look will be due to lace or matte fabric. Long white prom dresses 2021 are decorated with a deep neckline and a rich decor.
Fashion 2021: Youth style white dresses
Fashionable youth style: short white evening dresses. For several seasons, many outfits remain relevant without emphasizing the waist. The length is just above the knee.
In case you want something genuinely feminine and girly, then you can try on evening short white baby-dollar dresses, with tulip skirts or a lot of ruches, frills, and bows.
Gorgeous ideas for white prom dresses 2021
Retro style white prom dresses 2021
Retro style: try on elongated white prom dress 2021 with a print. Flower pattern, small peas, and strips look charming. Vintage dresses have characteristic stylistic features of the past eras: pleated skirts, sun skirts and thick or thin belts that highlight the waist.
White prom dresses 2021 can be combined with purses, large sunglasses, charming hats, and headbands.

Something of your own for latest fashion trends 2021
Original style: want to create a catchy and an elegant look? Try on black and white evening dresses. Combination of two basic colors is a winner, worthy of fashion magazine covers.
Also, white looks advantageous interspersed with red, blue and pink flowers.
Trying on white prom dresses 2021, be prepared for the fact that it is able to slightly deform the proportions of your figure, so you need to choose an outfit with great attention and soberly assess your chances.
In case you have significant problems with your figure, then pay attention to long white evening dresses with high waist. They emphasize the bust and create the right silhouette.