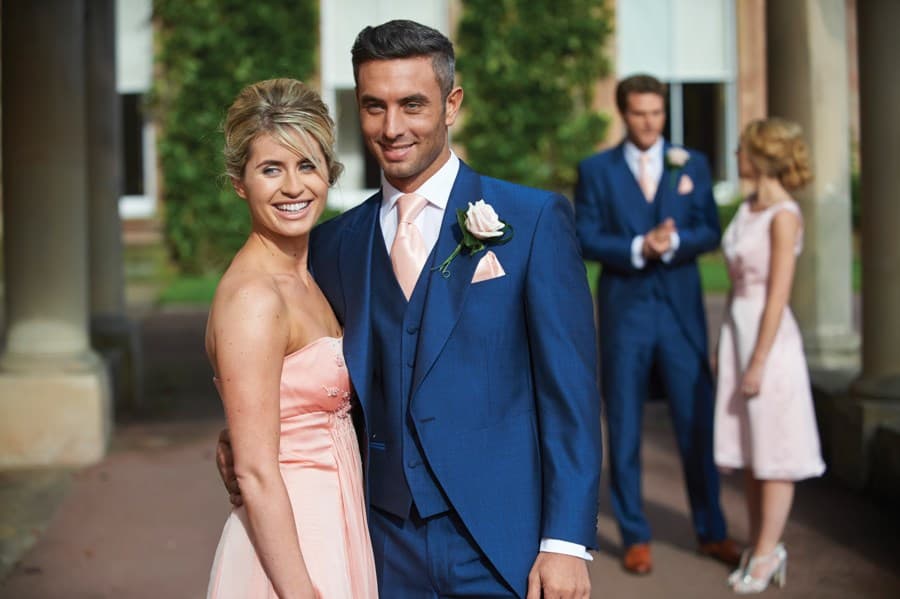 Wedding suit is the main element of festive groom's image. Suit along with bride's wedding dress sets tone for whole event and emphasizes selected style.Mens Fashion every year sets new rules for selection of wedding attire, so don't assume that any decent suit will fit for such an important day. Eventually groom should stand out from crowd of dressed up guests and attract attention and admiring glances. That is why fashion designers didn't stint for 2017 on solutions in field of men's wedding fashion. Here is our touch on «mens wedding suits 2017».


Trendy Mens wedding suits 2017
Classic style black suits remain in timeless fashion; however, designers recommend to slightly diluting the severity of this wedding attire with embroidery or applique on lapels by contrasting tie-scarf or unusual vest to give an interesting flavor to wedding attire.
Geometric patterns are in mens fashion 2017 trends, cell and textured floral pattern as we saw in recent demonstrations from Valentino. Such printed jackets look great bundled with monophonic strict style trousers. Courageous fiancés can try on topical groom suits with the Ombre effect and narrowed to the ankles trousers. These trousers are recommended to be combined with classic shoes, fashionable lofer shoes and even moccasins.
As for accessories and shirts, in this segment of wedding attire designers decided to be creative for glory, offering to wear embroidered shirts, suspenders, hats, watches on chains and scarves. Now let's examine the most significant mens wedding suits trends in more details.


Wedding suits trend #1: Mens 3 piece suits are topical
Multilayered burst into world of wedding suits for men as topical fashion trend. Mens 3 piece suits consisting of jacket, trousers and vest can be called the most relevant model of wedding suits for men. Vest in Mens 3 piece suits should be short enough, for not falling below belt line.

Wedding suits trend #2: Dandy style groom suits
Fashion has accented aristocracy and vintage, so fashion designers have not ignored segment of groom suits and wedding tuxedos, by dressing up grooms in 2017 as true British dandies. However, according to classic rules, tuxedo fit only for evening outgoings and doesn't for daytime celebrations. The perfect combination is black or highly dark blue wedding tuxedo with snowy white shirt and bow tie. Pants in this case doesn't require a belt, support is carried out only by means of sash or suspenders.

Wedding suits trend #3: Variety of prints on mens wedding suits
Popularity of printed clothing has led to significant changes in world of wedding suits for men. 3D-effect used almost in each of new collections by Giorgio Armani, Missoni and Boglioli, giving dynamics to mens suit and, surely draw attention to owner. Floral motifs also can often be found at fashion shows.

Wedding suits trend #4: Deep emerald green color
Deep shade of emerald green can be called unequivocal fashion hit of season 2017. This color can be used in monochrome combination (jacket + pants), as well in stylish combination of black pants and contrasting catchy jacket. Velvet is acknowledged as the most popular fabric for mens wedding suits; gentle texture with matte effect and flashy fabrics with emerald green spark.

 Wedding suits trend #5: The emphasis on waist
Despite the diversity of prints, colors and textures, fashion designers quite clearly interpret the urgency of style. Priority remains on single-breasted fitted jackets on one or two buttons. Such laconic model of jacket allows executing it in any color, and adding a significant number of stylish accessories.

Hopefully «mens wedding suits 2017» article helped you in your decision making.