Let's get acquainted with mens jeans 2021 trends and ideas. These stylish products are a present in almost every man's wardrobe. Stylists advise to have at least 2 pairs of jeans in your arsenal for creating different looks.

Current fashion precepts its own rules, and in the season of 2021 denim is perfect for sporty, festive, informal and business styles.
Colors are kept classic, but some models have been improved by the designers beyond recognition. Selection of stylish options of mens jeans 2021 will help men to make the right choice.
Mens jeans 2021: Video news


Mens jeans 2021: trendy models
These models of mens jeans 2021 are unequivocal favorites:
Slim cut best jeans for men 2021
Men's fashion with bangs survived the invasion of tight jeans, passed the interim of popularity of baggy jeans and finally reached to the reasonable compromise. Slim cut mens jeans 2021 are in trend.
They don't hold down movements and perfectly emphasize the taut figure.

White jeans are also in fashion. White is the premium segment of this year's denim fashion.
Yes, it's too demanding to the figure, and to the way of life in general. However, it will make you the most fashionable man.

Faded mens jeans 2021
Artificially aged jeans are also in mens jeans 2021 trend.
Such models are dis as differentiated with the presence of scuffs and holes. In fact, junk can cost a fortune or be an element of an expensive look, if you add some details to the jeans, for example, trendy shoes or a premium brand T-shirt.
Tapered cut best jeans for men 2021
Narrowed, from the knee down jeans are also stylish.
Tapered cut or tailored leg is ideal for high boots and other shoes in cowboy and motorcycle styles. However, if you have tight calves, it looks good with standard casual shoes.

Mens jeans 2021: modern styles
Daddy's jeans are also trendy. Slightly shortish, loose in thighs, originally from the 1980's comfy jeans in which your dad could flaunt in youth are again in fashion 2021 trends.

Raw denim jeans are also in mens jeans 2021 trend.
No artificial abrasions, additional coloring or bleaching, games with addition of polyester and other materials. Only original high quality and dense denim (raw denim).

Fashionable mens jeans 2021 are presented with such items:
skinny options or mens skinny jeans 2021
low-profile models
wide legged jeans
faded mens jeans 2021.

Bright distinctive features of the products of the new season will be cuffs, cuts, and scuffs, as well as the complete absence of excess decorations.
In the new season rhinestones, accessories and unnecessary lightning are out of fashion.
Decorative stitches and seams on mens jeans 2021, too, won't be relevant. Designers welcome a straight cut and the effect of an aging denim, which is used only in certain models.
Best jeans for men 2021: trendy colors and tips
When choosing the best jeans for men 2021, it's worth paying attention not only to the cut but also to the color. The following shades are in mens jeans 2021 trend:
dark blue
indigo
light blue
blue.

Classic black color is missing, which is a characteristic feature of the best jeans for men 2021. Designers decided to retreat from severity a little, preferring blue options.

Thanks to this approach, men can create a unique business style using blue jeans. In addition, blue shades are appropriate to apply both in winter and summer wardrobes.
In cold period of time, they are splendidly combined with stylish down jackets of any tone, and in warm weather, they will be a stylish addition for T-shirts.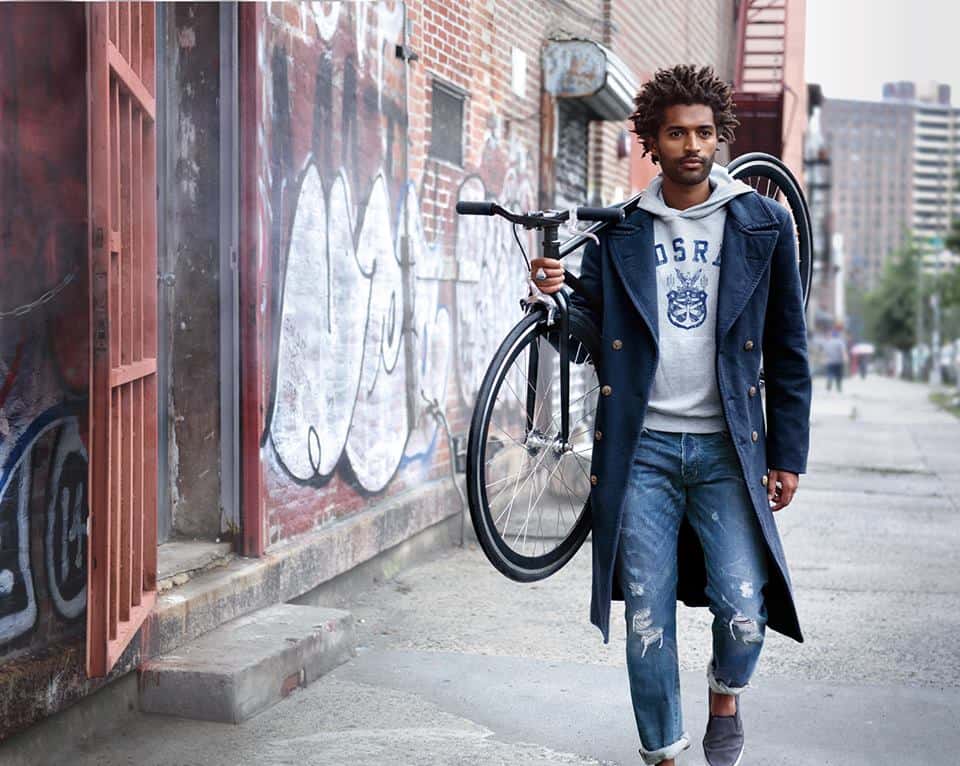 Combination of hues is gaining a momentum: jeans that combine several colors in their design, usually 2 options.
However, holes don't expose a leg, but on the contrary, they are covered with contrasting color fabrics, for example, dark blue. It'll allow men to wear jeans even in cold season.

Ripped jeans for men 2021: stylish trends
Now there is no need to create fashionable men's ripped jeans in an artificial way.
Any trendy brand can show its customers a decent selection of high quality fashionable ripped jeans for men 2021, aged artificially.

Pay attention to ripped jeans for men 2021 from Dolce & Gabbana, Diesel, LTB, Just Cavalli, Frankie Morello, Galliano, and other brands. All of them differ not only in type and number of slots but also in styles.

Among them are narrow and wide jeans, with low and high waists.
Not only full length trousers are considered fashionable, but also three quarter models. Colors of the pants are offered in very different shades: black, gray, blue.
With what style of outfit are the ripped jeans for men 2021 appropriate?
The original model of jeans is an excellent way to diversify your wardrobe. Spectacular jeans with gaps look organic as a part of everyday and club kits. They look good with sweatshirts, thin sweaters, white T-shirts or just shirts.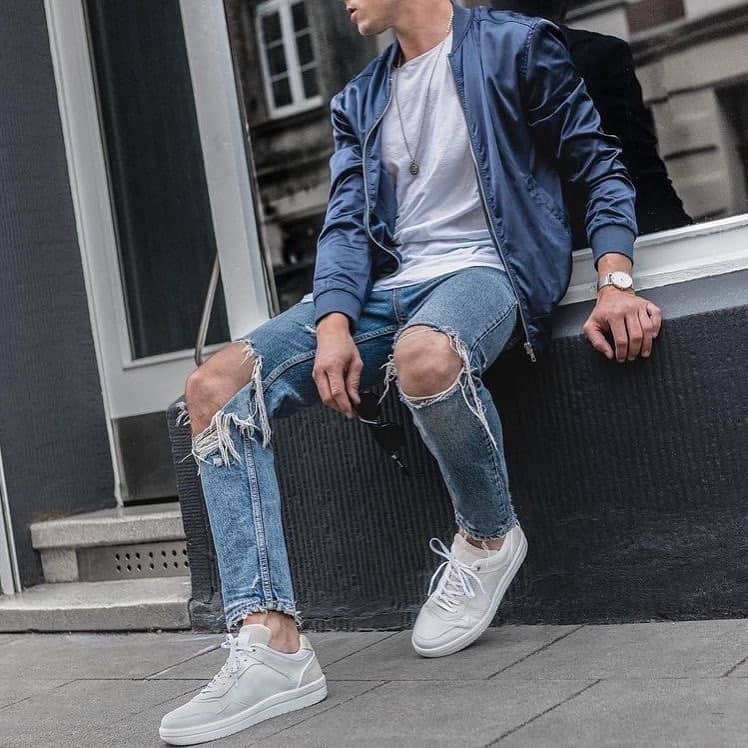 According to stylists, the perfect combination for everyday look would be ripped jeans with a shirt that is colored to match the tone.
In case you are planning to go to meet with friends or have a fun party, then choose shirts of flamboyant colors or decorated with geometric prints.
Ripped jeans aren't suitable for creating a business look.

The most comfortable shoes for ripped jeans for men 2021 are colorful sneakers with white soles, loafers, oxfords or leather flat sandals.
Mens skinny jeans 2021: fashion trends
So, popular models of mens skinny jeans 2021 are the elongated models, which can be rolled up. However, sometimes you can meet the length of 7/8, more typical for female options.
As for the belts, as well as the fit, designers offer a choice of classic tight waist coverage or elastic bands.
In addition, for active young people, designers have developed a special cut with a lowered step seam line.

We should also mention the fabric from which skinny jeans are made. Stretchy material is ideal for skinny jeans. However, sometimes the designers use classic denim, especially in youth models in street or casual styles.
As for the color palette of mens skinny jeans 2021 stylists presented in classic shades of black, blue and gray.
Gray, blue or green camouflage prints, ragged decoration, patches and scuffs of varying degrees of intensity are in trend. Also, you can choose a pair, made in sand, marsh or beige tinges.

Regulation for choosing the ideal model of mens skinny jeans 2021
For those who can boast with a high but a slender silhouette, stylists recommend trying on models of mens skinny jeans 2021 which begin to taper off from the knee.
Thus, the hem of the legs, which visually shortens the height of the legs, will help to align the look.
Low rise styles that visually stretch the silhouette will suit to shorter men.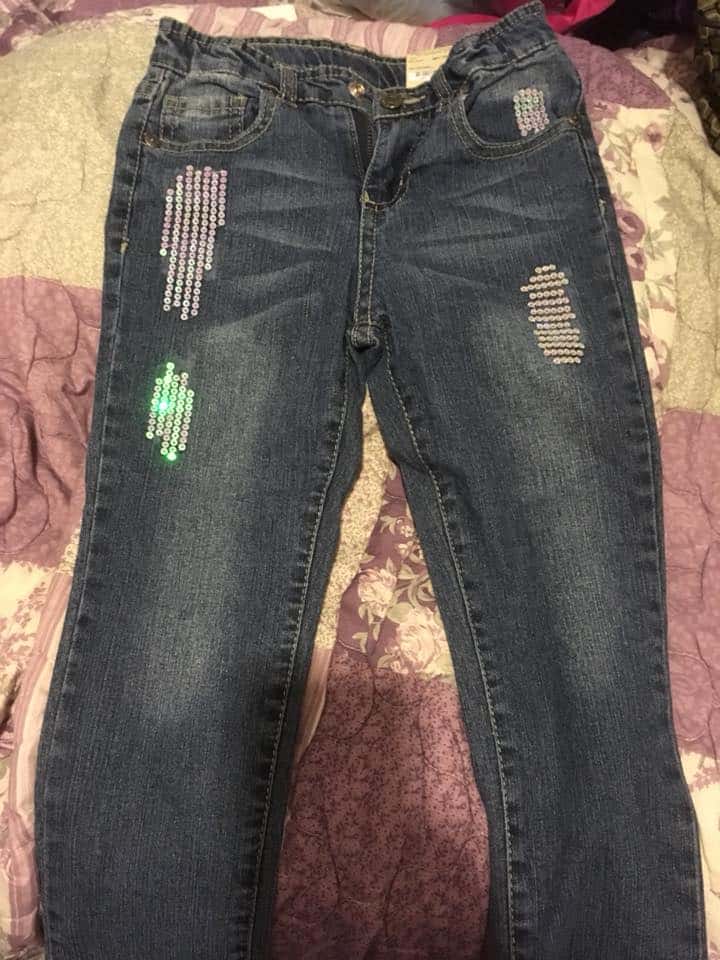 The perfect combination with skinny jeans is with a loose T-shirt and a sports jacket, sleeves of which are raised to the line of three quarters.
High sneakers will help to give a touch of street chic to the look.
For those who prefer neat combinations, fashion stylists offer to complement the skinny jeans with a denim shirt to issue few tones lighter and boat shoes.