If you are expecting a baby, then you will probably be interested to know what kind of clothes for pregnant women will be trendy in maternity fashion 2019. So, stylists offer to reconsider their wardrobe, throw out nondescript, shapeless clothes, and in return get stylish outfits. Let's find out maternity fashion trends 2019.
Maternity fashion 2019: colors and prints
As for color range in maternity fashion 2019, white and pastel colors, as well as brighter and more saturated colors and their combination are in trend.
For example, you can safely combine bright blue and purple colors, or red and yellow.
It all depends on your preferences and mood.
One of main prints is strip, mostly vertical. It'll draw silhouette and slim figure. Small floral ornaments:  flowers, leaves, buds, and inflorescences are in fashion. Maritime themes, such as horizontal strip, and various maritime symbols: anchors, lifebuoys are also in trend.
Underwear for pregnant women
It's desirable that underwear is made of organic cotton. Bras for pregnant women don't accept bones, wide straps and tightening.
Therefore, it's better to opt for modern retro lingerie, which was relevant in the 60s.
This style of underwear is marvelous hit in maternity fashion trends 2019.
Maternity fashion 2019: trendy outfits for pregnant women
Designers propose to draw attention on classic style black dress. Cotton dresses are not only trendy but comfortable. Ideal option is natural silk. In addition to black, you can choose other colors. The most relevant hues in maternity fashion 2019 are blue, burgundy, olive, lilac and beige.
Another feminine thing that should be in wardrobe of young mother, who wants to be fashionable is blouse. Free, light and airy cut will look especially stylish in snow-white version. However, any other color will be relevant, designers advise sticking to choice of monochromatic shades.
In order to give simple style of refinement, you can wear model, decorated with lace and embroidery.
Dresses have always been considered the most comfortable clothing for pregnant tummy. Strict straight and close-fitting models of soft knitwear, wool and tweed are relevant. In order to create original and attractive image, designers complemented styles of dresses with open shoulders, wide necklines, and moderate length.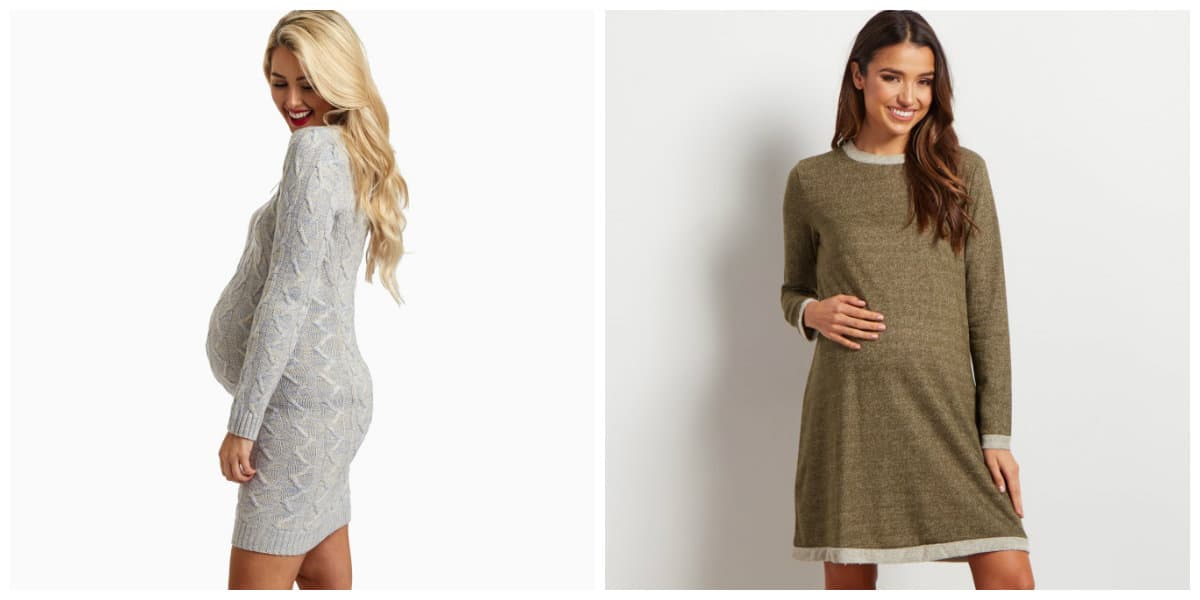 For every day designers offer sweater dress, shirt dress, knitted models. They can be made in different colors, but the most relevant will be: light pink, pastel, white, celestial and lilac tones.
Fashionable images for pregnant women
Clothes for pregnant women should be comfortable and light, from natural fabrics. Trendy choice will be knee-length dress and low heel.
Hardly with rounded tummy you'll feel comfortable in mini skirts. Pay attention to fashionable dresses, knee-length shirts, and models with spacious asymmetrical skirts. They are in maternity fashion trends 2019. Beautiful jacket can be one of the most stylish things in your wardrobe during pregnancy.
Choose elongated models of light colors, pay attention to options with sleeves ¾. Jacket looks chic, unlike, for example, from blouse with buttons. It can be combined with skirts, trousers, and dresses.
Universal milky color will fit into any image and will be in harmony with it. In autumn period, it is important to avoid hypothermia. Your good choice, in this case, will be soft warm spacious elongated coat.
Try on ankle boots or comfortable high boots. Poncho and fur vests will look stylish. If you want to look slimmer, then try on black and white ensemble, black top will hide tummy.
Shortened pants will help make autumn look more stylish, they are perfect for jackets and coats, now in fashion ¾ tight models.
Enjoy video and subscribe to YouTube channel.