Pregnancy isn't a sentence, but a great time when any woman becomes more feminine, fragile and refined.
Today designers represent separate lines for pregnant women. In this article «Maternity clothes 2020: tendencies and maternity fashion trends 2020» we will tell about trendy maternity clothes.

Maternity clothes 2020: new trends
Traditional materials for future mothers' clothes are considered natural and breathable fabrics, such as cotton, linen, silk.
Such fabrics won't cause itching and irritation during the heat.

Light colors like blue, light green, white and beige will be at top of maternity clothes 2020 fashion.
If you want to add dynamics and expression in life, you can refer to red, pink, yellow, and purple. Leading positions are occupied by coats and light parka jackets. In this case, woman remains elegant and doesn't have to choose between comfort and beauty.
Parks are a great solution for every day because they are ideal for urban style.
The choice of jackets is wide. You can find simple and elongated models for lovers of strict style and more youthful style with hoods and pockets. Chic short coats are one of trendy maternity clothes.

Trendy maternity clothes: evening dresses
Evening dresses for pregnant women should be both smart and comfortable and free enough not to cause any inconvenience to women.
A small or not yet noticeable tummy gives possibility of a large selection of evening dresses for pregnant beauties. Trendy maternity clothes 2020 offer a large selection of dresses-case styles.
This can be a one-shoulder dress, with an asymmetrical top or bottom, an oblique bodice line, a dress with open shoulders. Draperies in the waist will hide slightly protruding tummy. Elegant shiny fabrics and ornaments give them festivity and chic.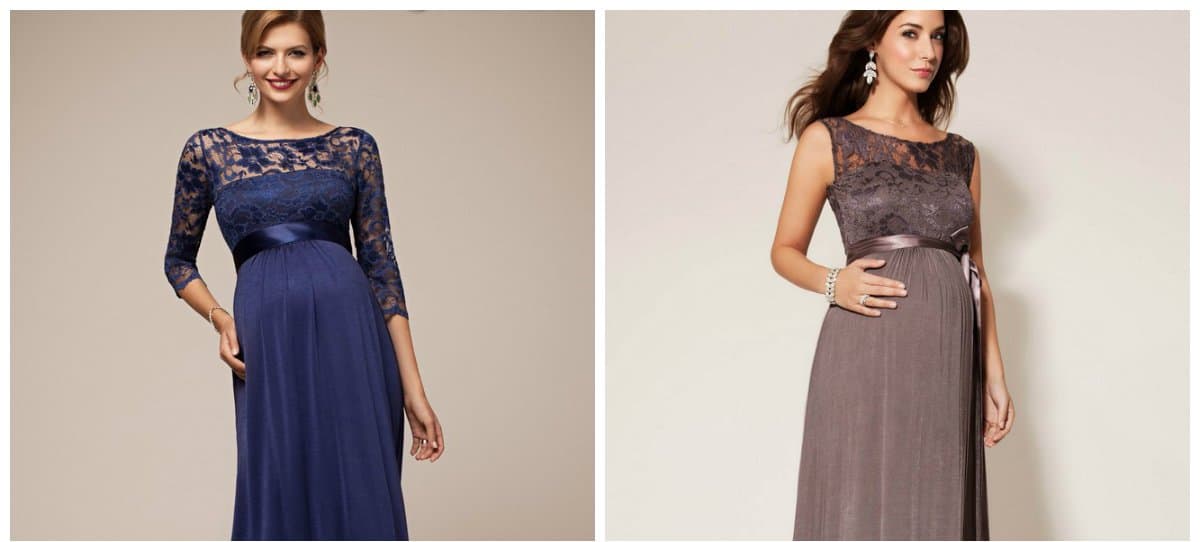 Dress code at work? No problems! You will find business clothes in any shop for pregnant women. These are shirts for pregnant women, trousers, skirts, and dresses in business style. This clothing provides a place for the tummy.

Maternity fashion trends 2020: jeans
Another important item of maternity clothes 2020 is tights. This wardrobe item is specially designed for pregnant women.
The fitting elastic slender pants are comfortable to wear, and they look stylish in combination with long tunics, shirts, and dresses.

Wide long tunic of flowing materials is one of maternity fashion trends 2020. A popular trend of this season is a free lengthened T-shirt with a bright print. Sweatshirts and cardigans for pregnant women in 2020, on the contrary, have soft colors.
It's better to choose elongated jacket with the ¾ sleeve, made of light "breathable" fabric pastel shades. You can create different images for pregnant women having in your wardrobe these and other fashionable things.

Jeans stay in trend in any season. Pregnant women don't give up this wardrobe element because of its versatility and practicality. Jeans are suitable for long walks, which are so useful for future mothers. Jeans for pregnant women have a distinctive feature, a special insert for abdomen. It can be made of knitted, soft material.

Thus, we hope «Maternity clothes 2020: tendencies and maternity fashion trends 2020» article helped to choose appropriate style for your long-awaited position!