Famous designers took care of what would be fashionable in winter 2015-2016 year for kids and adolescents. In the capitals of fashion passed exhibitions and demonstrations of brands like CFC Cologne, Pitti Immagine Bimbo, Playtime Paris, Kleine Fabriek and Bubble London, where well-known designers demonstrates their works.

New York Fashion Week
Fashion 2015-16 for teenagers has been presented in Bonnie Young collections. Rate autumn-winter season trends was possible at PetitePARADE fashion week for kids in New York, which took place in February.

A characteristic feature of presented images was emphasized negligence, which is so characteristic of teenagers. The image of a rebel managed to create with a neutral makeup and disheveled hair.

Kids clothing in the presentation of Bonnie Young should include gray, layered silhouette and green, purple and blue hues.
Winter fashion show in Florence
The Italian fashion autumn winter 2015-16 for children was introduced at the exhibition Pitti Immagine Bimbo, which took place in Florence. Miss Grant also offered a collection.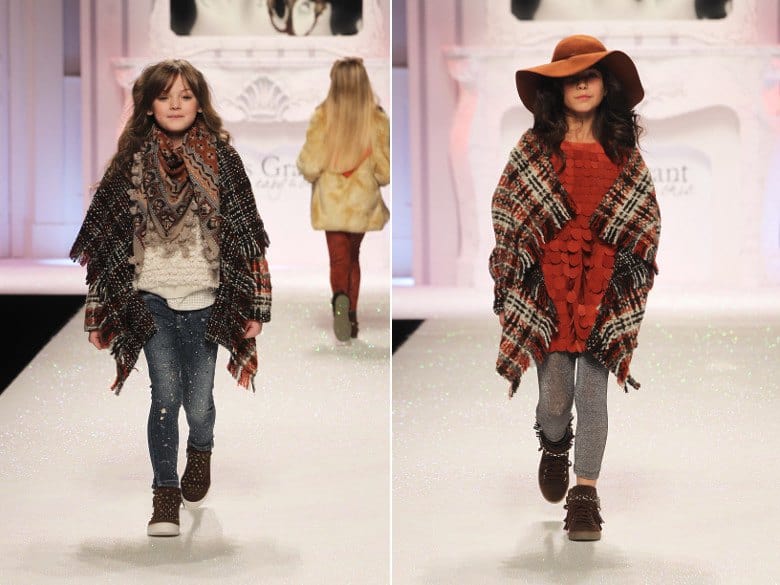 These cute clothes are simply obliged to become the most loved, because it has matched details, comfortable fabrics and of course Italian stylishness.

Italian fashionable dresses for girls and boys with a slight emphasis on negligence look magnificent.

Kids' dresses presented by Miss Grant can be purchased at stores in Italy and around the world and it would be a glorious gift for girls and boys.


Fashion Week 2015-16 in Moscow
Fashion 2015-16 for kids was proposed at the kid's fashion festival in Moscow. Exactly in January, took place Mercedes-Benz Fashion Week.


In cooperation with the company "Kids World», their collections for children are offered famous brands like Mishoo Yomo Futurino, and Blue Seven.

Children's winter fashion 2015-2016 become impregnated of forest theme: nature and animals details were viewed in almost every outfit. Also were present the bright colors and functional accessories.


Winter fashion show in Amsterdam

As part of an international project, twice a year takes place kid's clothes and shoes exhibition. Toys, as well as various accessories for home shown in Amsterdam.

Many famous brands such as Guess, Catimini, Moschino, Aston Martin, Absorba have taken part in winter fashion show.



Winter fashion show in Cologne
Kid's fashion winter 2015 2016 was also represented at international exhibition in Cologne. Their works were presented such well-known brands as Marc O'Polo, IKKS, Levi's Kids, Aston Martin and others. The winter fashion show is held every year, in summer and winter, and always accompanied by success.