Every girl wants to look stunning, especially when it comes to solemn events. Let's find out what trends of ball gowns 2020 are trendy and choose appropriate elegant evening gowns for your image.

Ball Gowns 2020 Video Advices
Ball gowns 2020: trendy models
Models with a corset are the most popular model of ball gowns 2020. They look perfect with a lush skirt. This model is a real outfit for a princess.

This is another fashion trend of ball gown dresses. Original intertwined threads or ribbons on the back look original.

This is the so-called return to the past. These dresses are characterized by a laconic design. They will look harmonious on any woman. Ruffles, beads or bows can be used as a decor.
An excellent choice will be a dress with straps with a V-neck. It is a multi-layered lightweight fabric with a lot of wrinkles and draperies. It's one of the beautiful trends of ball gowns 2020.

Lush dresses in the style of a mermaid
It's an effective model of elegant evening gowns with a puffy skirt. An excellent solution can serve a removable tail at the buttons.

Ball gown dresses: Current colors
The red dress is in trend. The spectrum of shades is diverse. You can easily pick up your shade depending on whether you are a brunette or a blonde.

Blue is perfectly suitable for the ball gown dresses. If you have blue eyes, then this option will emphasize the beauty of your eyes.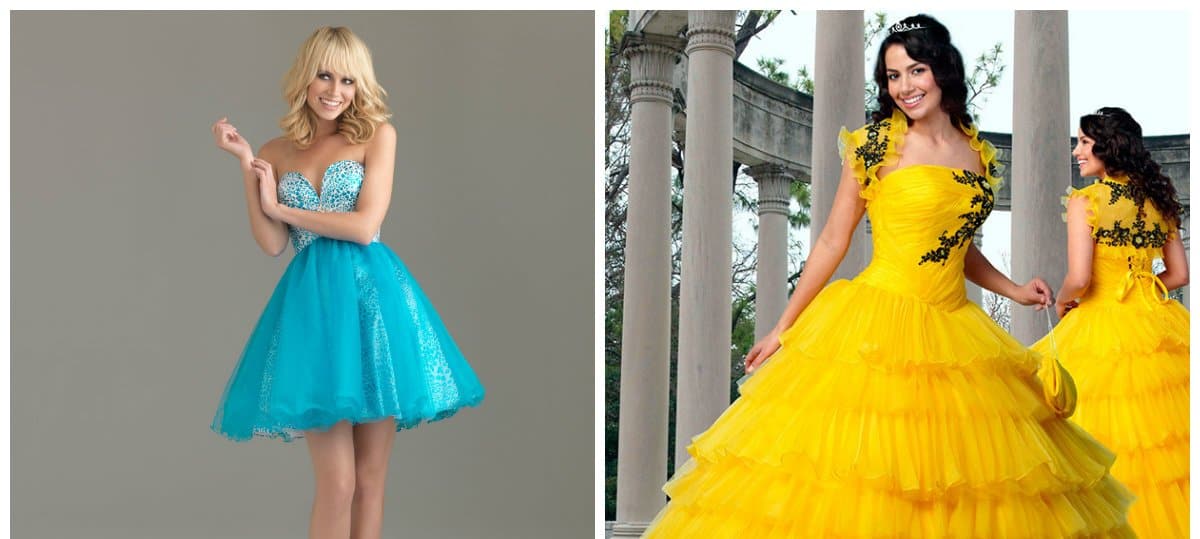 A yellow gown dress is also an excellent choice, especially the yellow color has many shades. This dress is more suitable for brunettes.

Green ball gown dresses are also very fashionable, especially they'll look stylish with decorated with stones or rhinestones.
Elegant evening gowns: stylish trends
Long elegant evening gowns in the floor are a classic of all time. Certainly, you will look great in this dress. Elegant corset and long skirt will create a stylish image.

It will be more convenient for you to spend the evening in a long midi dress. It does not constrain movement, and you can dance the whole evening. In this case, it retains all the same elegance as the long one.
The lush dress can also be short. It emphasizes the harmony and beauty of your legs.

Distract the attention from the flaws of the figure with the help of such accents as the effective décolleté zone and open hands and shoulders. Be careful with too frank dresses.