Many overweight women believe that new items from high fashion catwalks are not for them, that fashion for plus size women doesn't exist. There are no ugly women, in fact, any deficiency can be turned into dignity, if you skillfully choose makeup and clothes. Let's see what trends and ideas are in plus size fashion 2019.
Plus size fashion 2019: Video advice
Plus size fashion 2019: fashion trends
In 2019, many designers specially created collections of clothes for women with magnificent forms. Looking at plus size fashion 2019, we can safely say that plus size clothes is not a reason to get upset, overweight women on catwalk look feminine, stylish, immaculate.
But still, there are rules for clothing for plus size ladies to emphasize dignity and hide flaws. First, you need to pick clothes to fit. The second rule, be sure to purchase corrective underwear.
Remove oversized clothing from your wardrobe. These shapeless overalls only add volume to figure.
In order to choose right clothes, you need to study your body shape, point out merits and emphasize them with clothes, and hide flaws, if any.
In plus size fashion 2019, tabernacle jeans and small tops rule the ball. What should overweight girls do in this case? Give up jeans? In no case. Tight-fitting jeans are not just for thin ones. Ladies with full legs, too, can afford this piece of clothing.
Denim in plus size fashion
Options of jeans that were worn on hips are thing of past. High fit will shape waist and accentuate beauty of luxurious hips.
It is worth wearing elongated shirt with jeans, it is better with straight cut and with side slits. Shirt should be chosen with V-cut. All these details visually lengthen figure, give it slimness and attract attention to beautiful forms of breast. Especially these shirts are in plus size fashion 2019.
In hot weather with narrow jeans, you can wear vest: trapeze or tunic, in which bottom (hem) is made asymmetrically.
In cool weather with jeans will look great cardigan made of wool without sleeves. But here it is worth playing with colors and prints. If base is of same color, then cardigan should be chosen with bright print and contrasting colors.
Plus size fashion 2019: stylish trends
In plus size fashion 2019 prints with tropical plants, flowers, and even fruit patterns are in fashion.
Chubby ladies should choose prints with small elements, if print is large, then it should be one in clothes.
Romantic style of clothing created specifically for girls with beautiful curvaceous shapes. After all, it is exquisite, and sometimes bold cleavage, and flounces will be to face only those girls and women who have something to show.
In plus size fashion 2019, historical dresses are in trend. This is A – shaped silhouette, lace. Such cut of dress will emphasize chest and hide lack of waist and visually stretch silhouette. Lace will allow deep neckline to make less revealing.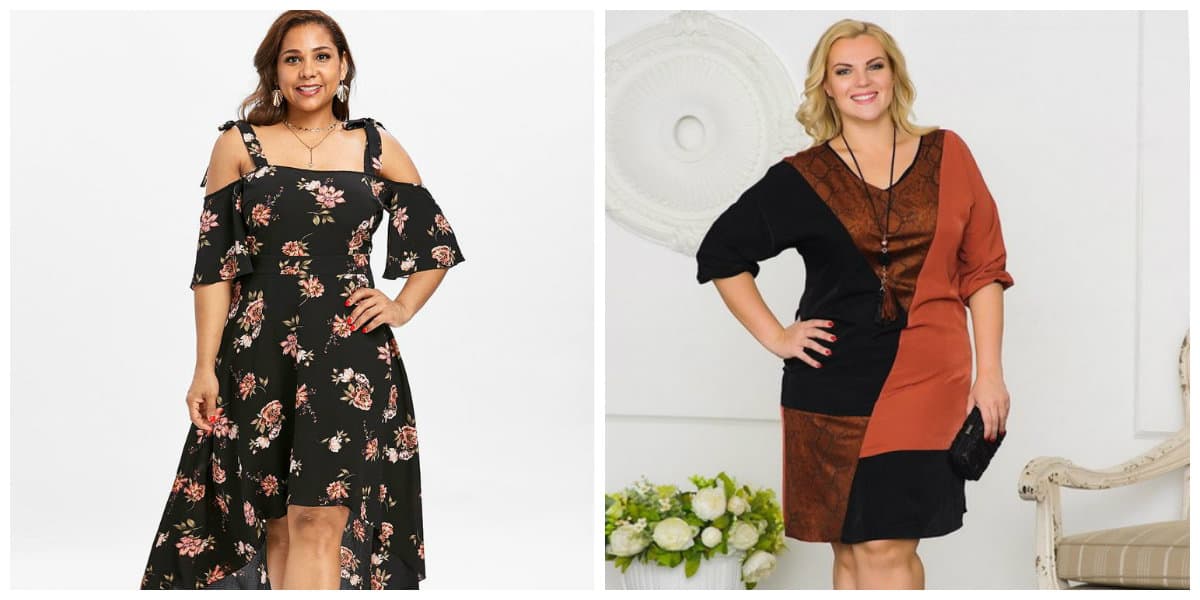 Dress with frills on shoulders is suitable for magnificent forms. You should not be afraid that this decor will make wider shoulders, shuttlecocks will help to balance proportions of figure.
Color scheme of these outfits can be made on game of contrasts. For example sheath dress, in which side inserts are sewn of black fabric, will visually help remove few kilograms of weight. Using game of color, you can narrow line of shoulders or waist.
Coat and blouse for plus size women
For cool weather, it is worth buying coat – cocoon or coat with A-shaped cut. But with colors you can safely experiment, it should add to image of chic and charisma. It can be all shades of yellow, turquoise, lavender.
In fashion romantic products, giving appearance of femininity. For sewing, you can use lightweight fabrics such as chiffon, silk, thin cotton. Particular attention should be paid to cut of sleeves so that they give model of femininity. Asymmetrical cut and sleeves that slightly open shoulder are possible.
Velvet is in plus size fashion 2019, but it is better for overweight ladies not to take it for sewing skirts. Trapezoid leather model will look more appropriate.
Plus size girls shouldn't refuse from skirts – pencils, which ideally sit on figure.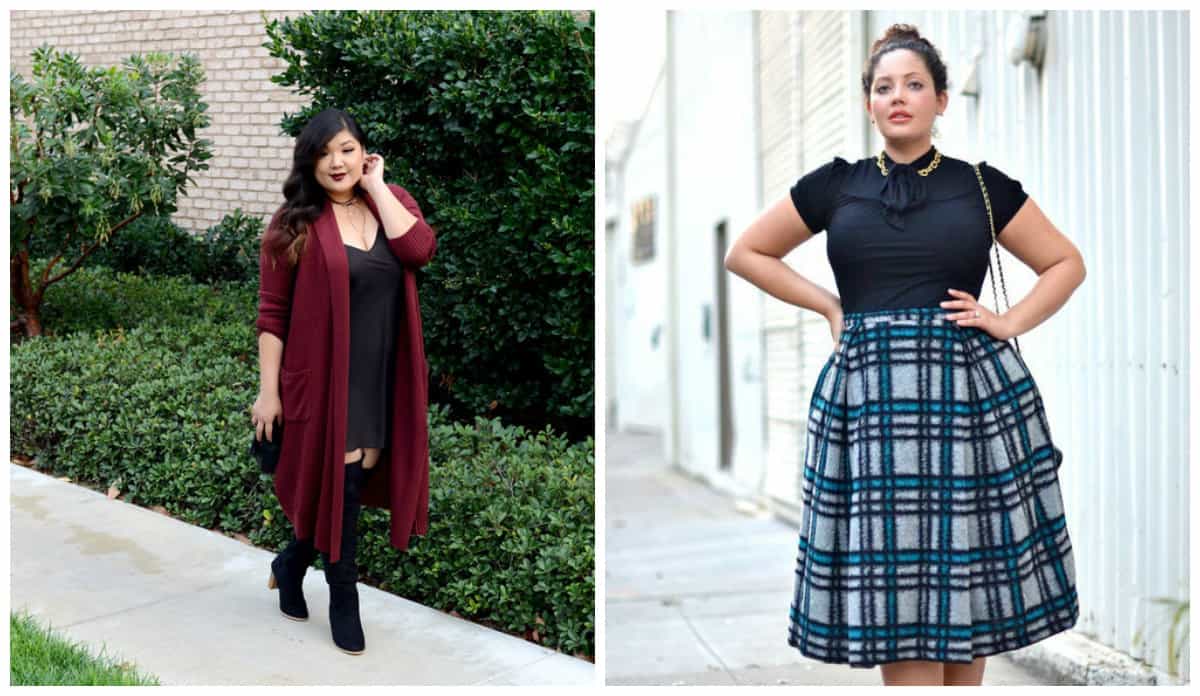 Tunic or cardigan is worth buying the most maximum length, so that they cover hips, in their widest place.
In plus size fashion 2019, both ensembles with skirts and trouser suits are in trend, but color solution should be seasoned and calm. Bright colors in image can be added with help of accessories or blouse.

Shoes and accessories
Fashion has come for bright, light, beautiful clothes, but you must always wear them with shoes with heels. Heels are back in fashion again. High heels make figure slimmer and visually lengthen silhouette.
Accessories are better to use those that will distract eyes of others from fullness of figure, for example, spectacular scarf. Jewelry is better to use less, stick to minimalism.
Tips for plus size girls
The first thing you need to do is pick good underwear. Lingerie is designed to simulate shape of chest and hips, and not to show all your folds. Don't get carried away with slimming underwear, it is harmful to skin and well-being.
It is very stupid to think that overalls will hide excess weight. Your choice should be semi-fitting clothing. Clothing should highlight flowing lines of your figure, and not turn it into huge ball.
Curvy girls should be able to make balanced image. It is very important to emphasize your waist with help of special drapery or simple belt. Many men like it when clearly visible woman's waist, chest, and hips.
Favorite fabrics in plus size fashion 2019 are silk, chiffon, soft wool.
For fluffy figure, you need to choose soft, light, flowing fabrics. Those who can repeat curves of your feminine body. Cotton blouses, tight jackets won't sit as desired. Silk blouse or soft sweater will look better.
Plus size ladies should forget about frills and decorative details.
Any overhead parts (pockets, frills) increase volume in place where they are located. Simplicity, brevity, elegance: that's the right choice.
 Fashion tips for plus size fashion 2019
Choose only low-contrast prints. Most often, bright large prints add volume.
Stylists advise wearing prints that don't contain too contrasting combinations. It is better to pay attention to calm and muffled drawings.
Complement image with massive accessories. Your accessories should complement image and balance proportions. That is why stylists advise plus size girls to choose large jewelry.
Beware of small handbags on thin strap. Overweight girls are not recommended to wear small handbags on thin straps.
Remember that cold colors are better than warm ones. It turns out that temperature of color affects visual dimensions. The warmer the color, the wider it is. In turn, cold colors reduce space. This property of cold colors plays into hands of all girls with forms. Take note of this when buying new dress.
In plus size fashion 2019 are elegant shoes on average heel or platform. Stylists don't advise wearing overweight girls shoes with wide heel and any massive shoes. Better something elegant on heel 5-6 cm. In addition, be sure to pay attention to shoes on platform.