Conservatives often say that only dark-blue classic denim is worth a look.So, article «mens jeans trends and tendencies 2017» isn't for them. We will talk about men's fashion trends and consider photos of famous brands that produce trendy jeans for men. Men jeans models a little surprised everybody, but, in general, you will be pleased. There is no necessity in radically changes of wardrobe. Mens fashion 2017 says that your wardrobe should have:
Mens ripped jeans
The good news is that mens ripped jeans again relevant. Fashionable jeans for men in 2017 abound with colored spots, cuts and shaggy threads. Eventually, outfit is obtained like American rock stars of 80s. Perhaps the most characteristic mens ripped jeans will offer a relatively new brand Amiri: each pair looks like dusted with gunpowder.
Jeans for men; low rise jeans
This does not mean that skinny jeans for men lost popularity; just fashion unfolds slowly toward broader patterns. Mens fashion 2017: straight (or slightly narrowed downwards) silhouette, free cut and cuffs. At Levi's and GAP possible to meet low rise jeans where leg is wider than last year's pants waist.
Mens jeans 2017; patch jeans
Colorful, but not motley are mens jeans 2017. Fashion trends 2017 require us to pay particular attention to patch jeans and contrasting inserts on mens jeans. If in 2016 prevailed embroidered floral motifs, they are now gradually recede into background (although Gucci and Dolce & Gabbana will profit) and will give way to more masculine accents of patch jeans. On the back of denim jacket will be hieroglyphs and figures in Japanese style, which we will talk about.
White jeans for men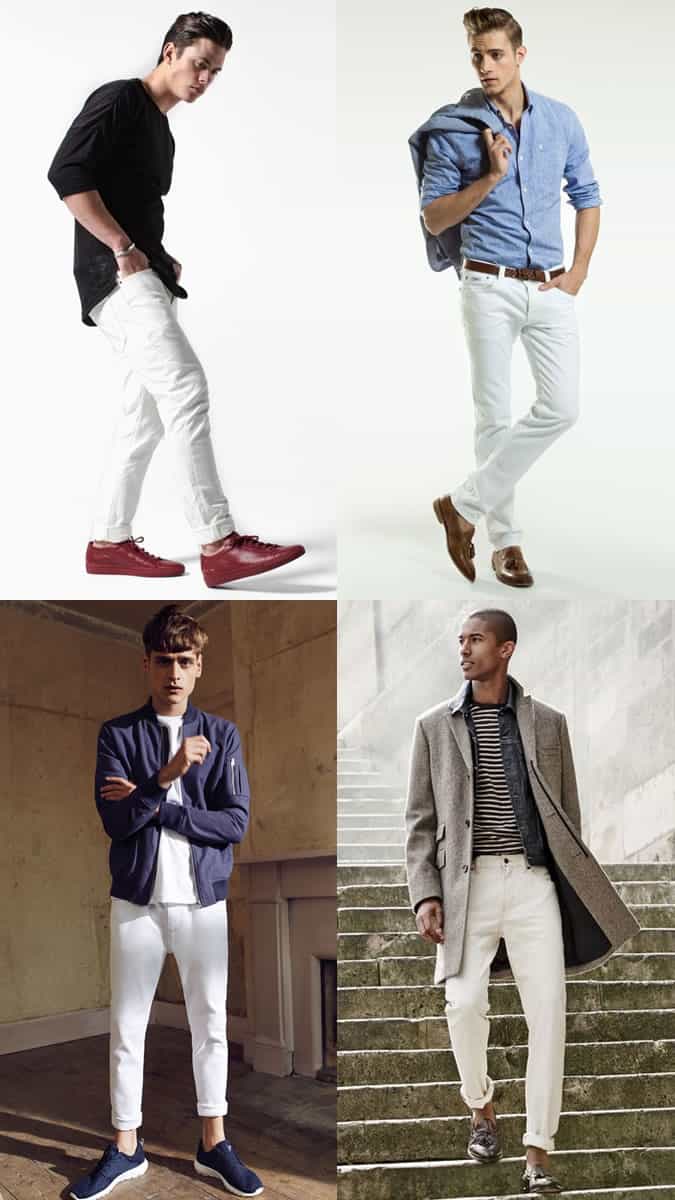 As for mens jeans colors, in season 2017 will prevail neutral shades. If you want to add flexibility of your wardrobe, then stop for white jeans for men. And it's not necessary to be a playboy, to afford dazzling trendy white jeans for men. Photos convey nuances of colors: you can choose lighter and clean color, or play on darker options. Those who worry about spots and splashes of water during the rainy season, be sure to pick up white denim jacket, it's also in trend at season 2017. But light blue shades of mens jeans (as you have noticed on photos) will be very far from mens fashion 2017.
Denim jacket in Japanese style
After we discussed the main trendy mens jeans 2017 (photos will help understand how wear them), it's time to go to outer clothing made of denim. Key roles have got wide denim jacket with oblique cut and jackets with lots of pockets, especially patch-pockets.
In general, if we have listened to conservatives, we should abandoned most of original mens jeans models.
Hopefully «mens jeans trends and tendencies 2017» will guide you all season 2017.