In our article, we will let you in about flower girl dresses 2021 for wedding. Wedding is a special holiday to which all the close people are invited.

Then the girls face the challenge, of what outfit to choose to be as beautiful as the bride. Fortunately, children's fashion is as diverse as the one of adult's, and each baby can choose a dress to their liking.
Flower girl dresses 2021: Video ideas

Flower girl dresses 2021: tips for choosing dresses for girls 2021
The choice of the flower girl dresses 2021 should be approached with a special attention.
Children have delicate and sensitive skin, so natural tissues that don't cause irritation and pass the air well should be preferred. A dress should be comfortable.
Kids are quite active, so nothing should hamper their movements.
It is very important to take into account the girl's opinion, otherwise, the child won't feel comfortable and won't receive any pleasure from the holiday.

When choosing flower girl dresses 2021, avoid the following styles:
a dress to the floor: you should not give long dresses to children. They can trip over them and fall. The ideal option would be the mid length to the calfs
dresses with corsets: such models are more suitable for girls older than 10. A corset can be narrow and inconvenient, and then kids will start to be capricious
Dresses with bare shoulders: a dress of this style will constantly crawl off the little princess, giving her a lot of inconveniences.
Stylish ideas for girls fashion 2021
Lush ball gowns are classic wedding options for little girls. In these flower girl dresses 2021, girls feel like fairy princesses at a ball. Often, such models have multi-layered skirts, which give bulkiness and airiness to the look.
American skirt, made of lightweight fabric, is very popular. Corsets are decorated with rhinestones, beads, sequins or lace.

Empire style flower girl dresses 2021 differ from ball gowns with the high waist, and a skirt form trapeze. They are usually sewn from silk or chiffon.
Depending on the time of the year, models can be with or without sleeves. A high evening hairstyle with small curls is perfect for this dress.
Flower girl dresses 2021: trendy styles for girls clothes 2021
Elegant flower girl dresses 2021 in Greek style are popular not only among adults but also among children.
Older girls refuse to choose luxuriant dresses, choosing more direct and strict silhouettes. Such dresses with a hairstyle in form of a large curl look stylish and charming.

Fashionable girls in short girls party dresses 2021 look incredibly cute. This is an ideal option for the most active children. These dresses are comfortable and free.
A child can safely run around, jump, dance and participate in the ceremony. In this case, parents may not worry that their child may stumble over the dress and get hurt.
Dresses similar to the one of the bride's are also in girls party dresses 2021 trends.
Often little girls take active part in a wedding ceremony. They can scatter rose petals in front of newlyweds, carry the rings, the veil or the bride's train.
Then it is better for the girls to wear white wedding dresses in the same style as the bridal outfit. You can add appropriate accessories to this look, like tiara, veil, jewelry in hair, buttonhole on a hand, etc.

Trendy materials and colors for flower girl dresses 2021
Flower girl dresses 2021 must be sewn from light natural materials. Usually, the designers use well-draped fabrics: silk, cotton, chiffon, satin, velvet, and taffeta.
Dresses made of organza, polyester or viscose should be chosen only if they don't cause discomfort and the child feels comfortable in it.

Color scheme in flower girl dresses 2021 is more diverse than the one of the adults'. Girls in snow-white dresses, similar to the bridal outfit, look gentle and romantic.
Wedding dresses of pastel colors: pink, peach, beige, caramel look beautiful and sophisticated. In 2021, mint, turquoise, mauve and purple shades are very relevant.
In case the wedding is designed in the same style or color, then girls party dresses 2021 should be appropriate.
Accessories for girls party dresses 2021
Hairstyles can be decorated with bright hairpins or tiaras. Also, you can make the look stand out with beads or bracelets. Girls party dresses 2021 are decorated with belts, embroidery, lace, and sequins.
Pay special attention to the shoes. Choose only comfortable shoes or sandals.
New shoes must be worn at least a couple of days before the wedding day. Shoes can be white or matched with the color of the dress.

Flower girl dresses 2021 are incredibly beautiful and charming. Turning a girl into a beautiful princess, don't forget to take into account her wishes.
Girls party dresses 2021: trendy girls fashion 2021 styles
Any holiday for every girl begins with the choice of a beautiful outfit.
Fortunately, today in shops and collections of famous designers a huge selection of festive dresses is presented, so all the little fashionable girls will be able to choose the right model: long and short, universal knitted and for special occasions, with trains.
Fashionable long evening dresses can't be called universal, but if your little lady dreams of just such, you should not refuse her. It is ideal for family celebrations or graduation.
Simple monophonic dresses in the style of minimalism look beautiful, complemented by one major element of decor, such as a huge bow or a marvelous rose.
In case you are going to a party with dancing and contests, then a short dress for a girl will be just right. It won't interfere with her active time.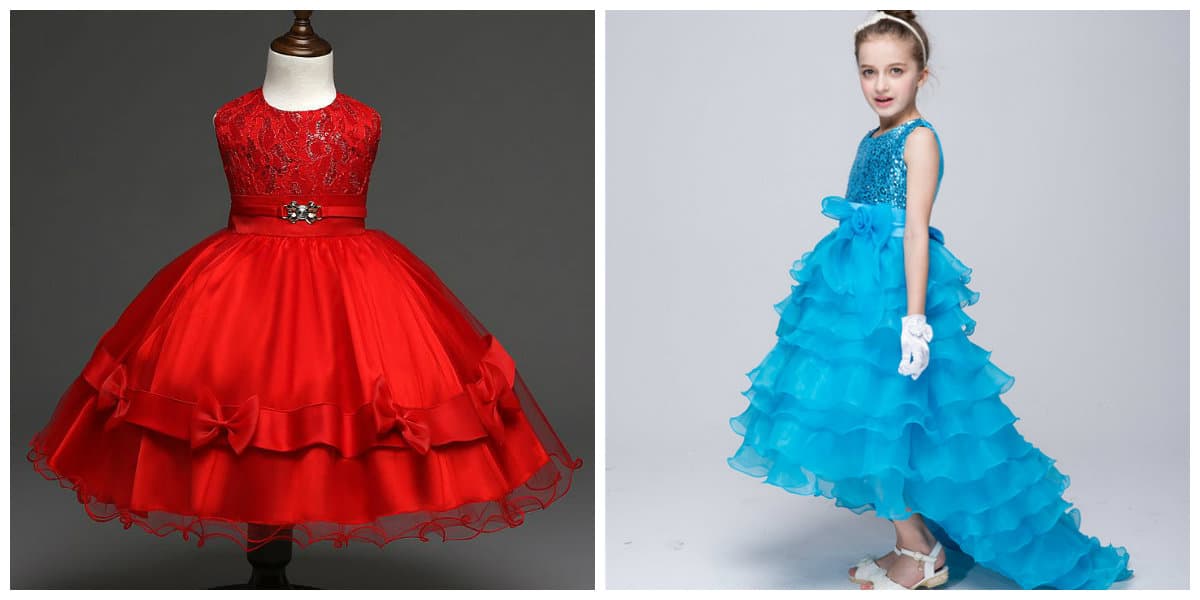 Pay attention to the trim line of the bodice. In case it is beautifully decorated or attracts attention with unusual sleeves, then the skirt should be simple and concise.
Girls party dresses 2021 with frills or cascade skirts look great on children. For older girls, it is better to choose a trapezoid dress with shoulder straps, or with an overestimated waistline.
Trendy colors for girls party dresses 2021
White is the most solemn color, so a little girl can safely afford a white dress with a beautiful decor or a floral print. All shades of white are also welcome, such as milk, pearl, ivory, and others.
Girls party dresses 2021 in red color are suitable for brunettes. Blondes should choose ruby or coral shades.

Girls often choose pink party dresses, but this color is not suitable for girls who are prone to corpulence, others shouldn't limit themselves, choosing shades from bright to pale pink.
In case your daughter has a bright appearance, she will be fine in a crimson or lilac color dress.
Yellow is almost a universal color, as it suits both blondes and brunettes, the main thing is to find the right shade. It looks especially good on dark-skinned girls with brown eyes.
As you can see, choices of flower girl dresses 2021 for little girls are really diverse, so you can choose the model that you and your child would be happy with.